I was SO excited to see that
Boo Mama
was hosting a virtual Christmas Tour of Homes!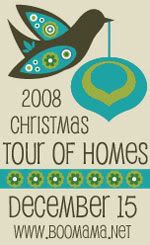 How fun is that?! I decided to join along and take you on a quick tour---so go grab a nice, warm cup of cocoa and enter in...we'd LOVE to have you!
Welcome to our Home!
Here is our main tree in the living room...ahhhhhh, We always have a fire going during the winter! (Even IF it is 70 degrees outside in Texas!) Its not Christmas unless there is a fire in the fireplace! ;)
This is my MOST FAVORITE part of the entire house!!! As I was hanging the stockings by the chimney with care, I couldn't help but chuckle as I quickly ran out of room on the mantle! WHAT A BLESSING! And to think that it used to be so cold and empty...(I smile every time I glance over in that direction...it just warms my heart! God is SO unbelievably gracious!)
Our little tree skirt that matches the stockings...
Mr. Santa who sits with us in our hallway...overlooking all the festivities
Our entry way table...
This is one of my favorite new editions! The QUAD TREE! Let's take a closer look!
Baby's 1st Christmas ornaments with the pictures of Benjamin, Ethan, Andrew, & Savannah.
I just LOVE this tree with all the individual ornaments for each child! SO special...you see this tree immediately as you walk into our home.
Gotta have some Christmas cheer in the kitchen!
A closer look at the kitchen tree: the Steece Gingerbread family and candy canes for each piece of the Steece fleet.
More festive kitchen plates and platters! I LOVE seasonal serving pieces (can't you tell?)!
Mr. Snowman warming himself by the fire and a family pic from Christmas '07
Still lovin' those Christmas platters!
Gotta have a candy dish with constant goodies to eat! (Pic of Christmas '07)
And I LOOOOVE this snowman! He sits right in the middle of everything!
May you all have a blessed Christmas full of laughter and love!!!
Merry Christmas from Joe, Suz, Benjamin, Ethan, Andrew & Savannah